From CatholicCulture.org:
The most comprehensive treatment of the
Liturgical Year
available online: daily reflections, saints, seasons, calendars, prayers, activities, and recipes.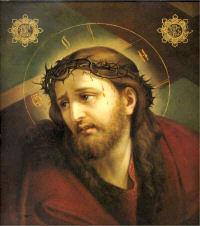 Daily Readings for:March 14, 2012

(Readings on USCCB website)
Collect: Grant, we pray, O Lord, that, schooled through Lenten observance and nourished by your word, through holy restraint we may be devoted to you with all our heart and be ever united in prayer. Through our Lord Jesus Christ, your Son, who lives and reigns with you in the unity of the Holy Spirit, one God, for ever and ever.
RECIPES

ACTIVITIES

PRAYERS

LIBRARY
Lent: March 14th
Wednesday of the Third Week of Lent
Move to:
Previous Day
|
Next Day
Lent should be seen not only as a season in preparation for the Passover of Our Lord Jesus, but also as a time and a path of grace, as we make our way, amidst temptation and struggle with sin, towards the encounter with the glory of the Risen Lord, as a river flows towards its sea. The river, not yet sea, will one day become the sea.
The Lord asks us to follow him at all times, but especially when the cross is heavy. We cannot receive everything without emptying ourselves of self: "He called the people and his disciples to him and said, 'If anyone wants to be a follower of mine, let him renounce himself and take up his cross and follow me. Anyone who wants to save his life will lose it; but anyone who loses his life for my sake, and for the sake of the gospel, will save it." (Mk 8, 34-35). — Mgr Luciano Alimandi
---
The Value of Fasting
Is fasting really worthwhile? Whenever I consider the value of a religious practice, I always look into the earthly life of our Savior. He is our model. He dwelt with us in order to teach us how to form our lives inwardly and outwardly. Christ Himself fasted often and accorded it high praise in His teaching. Recall how He fasted forty days before entering upon His work of teaching. At the beginning of Lent the Church wishes to stamp this fact deep in our hearts: our fasting must be in union with and in imitation of Christ's.
I call to mind the mystery-laden, pregnant words spoken by our Savior when the disciples, unable to cure a possessed boy, asked, "Why could we not cast him out?," and Jesus answered, "This kind can be driven out in no way except by prayer and fasting" (Mark 9:29). This reply has always made the deepest impression on me. Prayer and fasting are extraordinary means (we may call them violent means) when other simpler ways are of no avail against the powers of hell.
Now another saying of Jesus comes to mind. When John's disciples began to reproach Him, "Why do Your disciples not fast?," He replied: "Can you make the wedding guests fast as long as the bridegroom is with them? As long as they have the bridegroom with them, they cannot fast. But the days will come when the bridegroom will be taken away from them; in those days they will fast" (Luke 5:35). There is a hidden depth of meaning in these words. The coming of Christ among men was a wedding feast. Fasting had no place. But it is most proper to fast when the divine Bridegroom is taken away. Fasting on Fridays and during Holy Week, then, is in accord with Christ's own wishes.
I should like to cite one further passage from the Gospel, one which casts light on fasting from another direction. Once our Savior compared Himself with the Baptist in these words, "John came neither eating nor drinking, and they say, `He has a devil!' The Son of Man came eating and drinking, and they say, `Behold a glutton and a wine drinker.'" John was a man devoted to penance, an ascetic, who fasted throughout his life. Not so Christ. His way of living was not based exclusively upon self-denial and mortification, but upon an ordered enjoyment of life. So we learn from the Savior that fasting should be the exception, not the rule, in Christian morality.
To complete the lesson let us consider for a moment the passage in the Sermon on the Mount where Jesus speaks of the three important pious exercises of fasting, prayer, and almsgiving. He highly recommends all three, but warns against practicing these virtues in a pharisaical manner.
The main points in Jesus' doctrine on fasting, then, are:
Fasting is an extremely important means of resisting the inroads of hell (hence Lent).
Fasting should be practiced as a memorial of Christ's death (Friday, Holy Week).
Fast days occur by way of exception in Christian life, they are not the normal practice.
Fasting holds a place alongside prayer and almsgiving as a pious exercise.
Excerpted from The Church's Year of Grace, Pius Parsch.
---

The Station, at Rome, is in the church of St. Sisto Vecchio. It was built in the 4th century, and was one of the first parish churches in Rome and was known as the Titulus Crescentianae. Tradition claims that it was founded by Pope Anastasius I.