From CatholicCulture.org:
The most comprehensive treatment of the
Liturgical Year
available online: daily reflections, saints, seasons, calendars, prayers, activities, and recipes.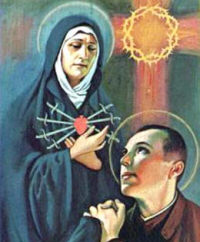 Daily Readings for:February 27, 2012

(Readings on USCCB website)
Collect: Convert us, O God our Savior, and instruct our minds by heavenly teaching, that we may benefit from the works of Lent. Through our Lord Jesus Christ, your Son, who lives and reigns with you in the unity of the Holy Spirit, one God, for ever and ever.
Lent: February 27th
Monday of the First Week of LentOld Calendar: St. Gabriel of Our Lady of Sorrows, confessor
Move to:
Previous Day
|
Next Day
Now Jesus and his disciples set out for the villages of Caesarea Philippi. Along the way he asked his disciples, "Who do people say that I am"? They said in reply, "John the Baptist, others Elijah, still others one of the prophets." And he asked them, "But who do you say that I am"? Peter said to him in reply, "You are the Messiah." Then he warned them not to tell anyone about him (Mark 8:27-30).
---
St. Gabriel of Our Lady of Sorrows
On Ascension Day, 1920, Pope Benedict XV bestowed the honors of sainthood on a youth who is rightly called the Aloysius of the 19th century. He was Francis Possenti, known in religion as Gabriel of the Sorrowful Mother.
Born in Assisi, January 3, 1838, he was given the name of the city's illustrious patron, St. Francis, at baptism. As a student in neighboring Spoleto, he led a good though rather worldly kind of life until God drew him closer to Himself through an illness. The decisive step was taken while seeing the highly honored miraculous picture of our Lady in Spoleto borne about in solemn procession. As his eyes followed our Blessed Mother, Francis felt the fire of divine love rising in his heart and almost at once made the resolve to join the Passionists, a religious congregation dedicated to the veneration of and meditation on the passion of Jesus Christ (1856).
After overcoming many difficulties, he carried out his resolution and received the religious name, Gabriel of the Mother of Sorrows. Even as a novice, he was regarded as a model of perfect holiness both within and beyond the cloister.
Saint Gabriel did not stand out from his community in any extraordinary way — his heroism lay in his obedient attitude. He conformed himself to his community in complete humility. Little is known of his life - only that he was blessed with an excellent memory and other gifts that made him an outstanding student. He also had a great devotion to the Passion of Christ and the Sorrows of Mary. Pius X and Leo XIII especially desired that he be the patron saint of young people and novices in religious orders, as their model in the interior life. He died in the year 1862.
Saint Gabriel Possenti wrote: "Love Mary!... She is loveable, faithful, constant. She will never let herself be outdone in love, but will ever remain supreme. If you are in danger, she will hasten to free you. If you are troubled, she will console you. If you are sick, she will bring you relief. If you are in need, she will help you. She does not look to see what kind of person you have been. She simply comes to a heart that wants to love her. She comes quickly and opens her merciful heart to you, embraces you and consoles and serves you. She will even be at hand to accompany you on the trip to eternity."
Patron: Abruzzi region of Italy; Catholic Action; clerics; students; young people in general.
---

The Station today is at St. Peter in Chains. The church was one of the tituli, Rome's first parish churches, known as the Titulus Eudoxiae or the Eudoxiana. It was built over the ruins of an Imperial villa in 442 (or possibly 439), to house the chains that had bound St. Peter in prison in Jerusalem.